Beck, Guero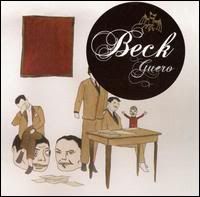 Beck's Guero was slated to be one of those 'return to greatness' albums that are supposedly 'refreshing' and 'classic' or whatever bullshit some modern-day Ben Fong-Torres is looking to pimp to Rolling Stone readers. In re-uniting with the production of the Dust Brothers, Guero was also said to be beck's new Odelay, and the whole idea behind that made me sort of against the entire album for two reasons: mainly because I hate when writers make shitty aphorisms like that, and secondly because if that aphorism is true, than the album stands just as that, another Odelay, and thus pointless. Regardless, many trusted music-lovers told me that I should buy this album, and I did.
On first listening, I was not impressed with the sound or the production quality. Maybe I was being a little too hard on the album, but it felt unfinished and there was this whole feeling that it was a cleanly produced album trying to sound lo-fi.
E-Pro
especially concerned me, as it just started, there was no cool amp-buzz intro or weird nonsense, it just starts as if someone flipped the beck switch to 'on', and suddenly: music. It was suspicious. The nonsense and background noise that I was looking for arrived in
Qué Onda Guero
, but this is not a strong song, the looped riff borders on annoying and there's just a lot of Spanish men apparently yelling a young, innocent and impressionable Beck Hansen (no homo). The lyrics aren't bad but this whole god damned media boner about how Guero=Odelay keeps me thinking that Beck pulled these lyrics from the abortive remains of Odelay song-craft. Song's like
Girl
,
Earthquake Weather
, and
Hell Yes
are awesome, but sound very modern-day pop/radio-played club tracks with the big bass and what not(mainly on
Earthquake Weather
and
Hell Yes
).
Girl
could almost double for a new Sheryl Crow song, if it weren't for its nice loops and Game Boy intro. I don't recall Odelay sounding much like its counter-parts at the time it was releases (then again, I was about 8 and
Where It's At
was the soundtrack to my innocent, connotation-less life)
The one thing I do like about Guero, and what saves it from the labels it has been getting is that it retains a sense of forwardness and change in the face of inevitably being compared to Odelay. It has the sort of Blood On The Tracks feel, because Beck's voice has changed and there is still a sense of his new persona even though he is supposedly going back to his roots. A lot of tracks show a more electronic side that's progressed from the stripped-down sea change. The last 7 tracks (minus rental car) show a very electronic blues element that would have worked better in it's own album, as it still retains the lyrical greatness of Sea Change. Maybe I just like Sea Change too much.
Overall this is not a bad album, to me it seems to jump all over the place, and I think that's a good thing, but I'm just sort of against those heavier bass tracks just out of current cynicism for modern music. There are some real great tracks hear and it furthers my belief that Beck is a great musician besides being an asshole (according to Wayne Coyne), and hiring some freak to bang a Green Bay Packer's trash can on television appearances (wtf is up with that?). If you have read nothing up to this point ill just put it to you this way: I'm sure if Interscope was more of a bastard label they would call this album Sea Odelay.
G.O.O / G.O.O.A.L